Displaying expertise in your niche is key to growing your professional services or consulting firm. Here are three strategies you can deploy to help you become the "visible expert" in your industry.
According to the 2019 High Growth Study by Hinge Marketing, the key to growing and building a successful consulting firm business is about having visible expertise, and it also being the cornerstone of your business growth strategy.
So, what exactly are the characteristics and behaviours of high growth consulting firms that you can use in your business? First, let's look at what a "high growth" firm actually is:
No one will argue that growing a professional services firm is not getting any easier, so how do you, in this environment? Key findings from the study found the top issues facing firms included:
increasing competition both from new competitors as well as larger firms
changes in how buyers buy professional services
downward pressure on pricing
Other factors identified were
Critically, the study also found one of the primary drivers of high growth is to focus your strategies around making your firm "The Visible Expert" within your target markets.
Watch the video
Transcription

Hi, I'm Michael Haynes, and welcome to Listen Innovate Grow TV.

In today's episode, we're going to be talking about how you can build and grow your consulting business. Now recently, Hinge marketing firm in the US did their 2019 high growth study of consulting firms to understand the characteristics and behaviours of consulting firms that are high growth. By high growth, we're talking about firms that have over 20% year on year annual growth.

In their study, they've found that the key to growing and building a successful consulting firm business is about having visible expertise and by having visible expertise, making that the cornerstone of your business growth strategy.

Being a visible expert entails 3 components to your strategy.

Content Creation

One is about having content creation. So this is all about enabling buyers, providing your prospective business customers, your prospective clients, with the right kinds of information, advice and tools to help them make their decisions to meet their key priorities, challenges and objectives.

One way in which you can effectively provide content which is going to really add value and help your business clients meet those objectives is through conducting your own research. The hinge marketing study has found that consulting firms that do conduct their own research have over 6 times as much growth as those which don't. So creating the right kind of content to really enable buyers to make their key decisions is a key component of your consulting firm growth strategy.

Content Promotion

Now, creating content that's going to be informing and educating and advising your prospective client is not enough. It's not just about creating the content, you have to make sure that you're getting out and promoting that content and making sure that that going that you create is visible where your prospective business clients are going to be, and in terms of really trying to drive growth for your consulting firm, it's important that you promote your content for both online and offline. Both are necessary to drive and gain the growth that you see.

So in terms of an online perspective, that's all about making sure that you're getting out and promoting your content where your prospective clients are seeking information online. So that is the likes of getting on to blogs, podcasts, your industry and professional association websites, doing guest blogging so that you're getting onto those key blogs, those key sites where your prospective clients receive information, tapping into industry influencers and again, conducting interviews with them and getting them to promote and distribute your content, and of course, it's also important that you're also growing your content offline, so that's all about making sure that you're speaking and attending at trade shows, conferences, industry events, you might want to be hosting your own events whereby you're inviting your industry influencers, leaders within your industry, your prospective clients, so that they can be coming in to be getting insights, information and advice, getting an opportunity to engage with each other.

So, content promotion both online and offline is quite critical in order to help drive the growth of your firm.

Services Innovation

And then the third component of how you're going to leverage the invisible expertise as part of your strategy to grow your firm is through service innovation. So that's all about developing new offerings that are going to be meeting more of the broader needs of your business clients and customers. So this can be things such as providing assessments, consultations, you may also be looking to provide packages, whereby you're providing a holistic solution of a broader set of services, so that can be combining things such as training, analytics, reporting, providing implementation end support, so it's about combining and providing those services into holistic solutions that meet a broader set of needs.

You may also want to consider partnering with other service providers who are also targeting your same target audience as a means of providing a holistic end-to-end offering, which is going to meet the needs of your business clients and customers.

So again, in terms of growing your firm, it is about leveraging and being a visible expert, which is about creating the right kind of content, which is going to be enabling your buyers, providing them the right information, advice and tools to solve their problems and provide means to help them meet their priorities and challenges, and then it's about creating that content, promoting that content where buyers are going and seeking information, both online, through various blogs, websites, influencers that they're looking at, as well as offline, at key events where they're going to engage and try to learn, and then learning through service innovation by providing a broader set of service offerings, such as comprehensive bundles, provide mastermind groups, training, reporting, additional broader services through your own firm and also potentially partnering with others.

For more information about how you can build and grow your professional services firm, go to www.listeninnovategrow.com where you can find additional
tools, articles and information.

Until next time, I'm Michael Haynes.
The Key To High Growth: Become the Visible Expert
A visible expert is an industry expert that is well known and highly regarded in the marketplace.
Easily found online, they are called upon to provide their insights and points of view to media, speak at leading conferences and events.
The importance of positioning your firm as the visible expert is critical, as numerous studies have shown that:
Expertise and specialised skills are core decision drivers in the choice of a professional service provider
Business buyers will pay a premium to work with experts
So what are the strategies you can use and how do you implement them?
3 Key B2B Marketing Strategies to Drive Business Growth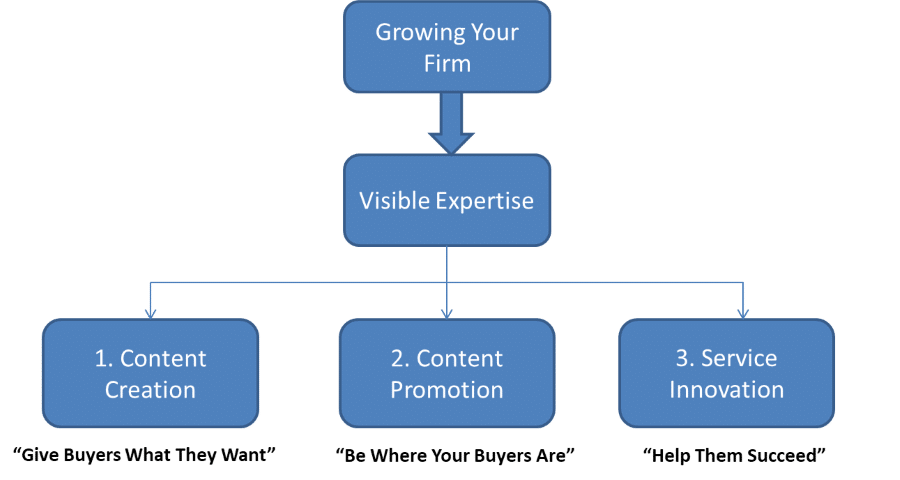 Three strategies used by High Growth Firms to drive sales and business growth are:
Content creation
Content promotion
Business services innovation
Let's look at each of these in more detail.
1. Content Creation
High growth firms consistently develop content which informs, educates and advises business buyers as to how to solve their problems, meet their key priorities and objectives. Content is created to match:
Priorities and requirements of each of the individuals in the buying group involved in purchase decisions. (Learn more about who is involved B2B purchase decision-making here – Want to Acquire Big Business Customers? You Need to Know Who Really Buys)
Where buying group participants are at in their buying journey (eg. Awareness, consideration, Decision Making)
Remember that each decision-maker often looks at 3-5 sources of information. Therefore it is imperative that you both identify all participants involved in the decision as to whether or not to use your firm as well as the information sources they use as part of their evaluating and decision making.
2. Content Promotion and Distribution
However, it is not enough to create great content.
It is also critical that your content is promoted and seen where business buyers seek information and advice. In other words, your content can be found:
At events business buyers attend
In what they read
Where they listen to
High growth firms make their content must be visible where buyers go for information, both online and offline!!
Offline
Speak at relevant conferences, trade shows and industry and professional association events
Consider hosting your own events such as breakfasts, forums and workshops

Provide information, advice and education pertaining to key challenges and trends your audience must address

Consider conducting your own research on trends and developments in your target industries and how to address them as the theme for hosting your own event
Online
Make sure your content is highly visible online where your target audiences seek information and advice.
Ways of promoting and distributing your content online include:
Blogs and Podcasts
Industry and Professional Association Websites-they often accept guest articles and blogs
Industry Influencer
Using Social Media by:

Posting on LinkedIn, Twitter and Facebook

Publishing with relevant LinkedIn Groups

Presenting content/conducting interviews using LinkedIn Live and Facebook Live
Also, consider using services such as Spotaguest to identify opportunities to publish on blogs and podcasts that have relevant and large audiences.
3. Business Services Innovations
Develop new services to enable your firm to meet a broader set of business customer needs.
Potential offerings could include providing the following:
Assessments and consultations
Reporting and analytics
Mastermind Groups
Implementation support
Your firm can combine its products and services and offer them as "bundles" or "packages" which could be offered through different service levels or options (eg "Do It for Me" versus "Do It With Me")
Also, consider partnering with other complementary product and service providers to develop and/or co-market your comprehensive packages.
Remember when you are enhancing and/or expanding your service offerings that
What You Deliver (e.g. products and services provided) and
How You Deliver (e.g delivery method, service levels etc)
will be driven by your buyers' needs.
Therefore, it is critical that you are periodically LISTENING to your business customers so you have a thorough and current understanding of their needs.
Did you find this article helpful?
Please let me know in the comments below, and don't forget to subscribe & join the LIG community to access our ever-growing library of B2B resources such as planning toolkits & checklists.
About Michael Haynes
B2B Customer Acquisition & Growth Strategy Consultant
For over 20 years, Michael has worked with micro-businesses to large corporates alike across Australia and Canada, developing and implementing business growth strategies and programs.
Related reading
3 Ways to Innovate Your Service Offering to Drive Business Growth
People typically regard innovation as being about creating a new product ("a thing") or technology. However, regardless of what your service offering is, there are three ways you can innovate your business to increase revenues, clients and ultimately grow your business.
Listening to Customers: The Foundation for Start-Up and SME Innovation and Business Growth
Listening to your business customers enables your start-up or SME to identify precisely where it must BUSINESS innovate. In other words, what areas of your business that you must either introduce something new and/or make significant improvements.